A coworker asked me which live show that I've seen had the greatest impact on me. I thought that was a great question, and I thought it would be easy to answer, but the more I think about it, the more elusive the answer becomes.
Two days after my 16th birthday I saw KISS play two shows in a 1,500 seat theater, and that was a profound experience for me (remember, I was barely 16). That was the tour they did to promote the (first) KISS Alive! album and it was as close to perfection as my teenage goober brain could comprehend.
I discovered KISS when I was 14 years old and the Hotter Than Hell album cover compelled me to buy it. It's difficult to imagine what KISS was in the context of the times. They were weird, mysterious, heavy, crazy. Everything a teenager wants in their music. Or used to want, I suppose. Pre-Billie Eilish.
As much as those shows may have affected the teenage me, I can't rank them above a lot of other shows I've seen. I can't boil it all down to one, or five, or ten. I just can't do it.
So instead I saddle you with ten or so from each decade. It's the best I can do.

(And okay, I also flagged the top 10.)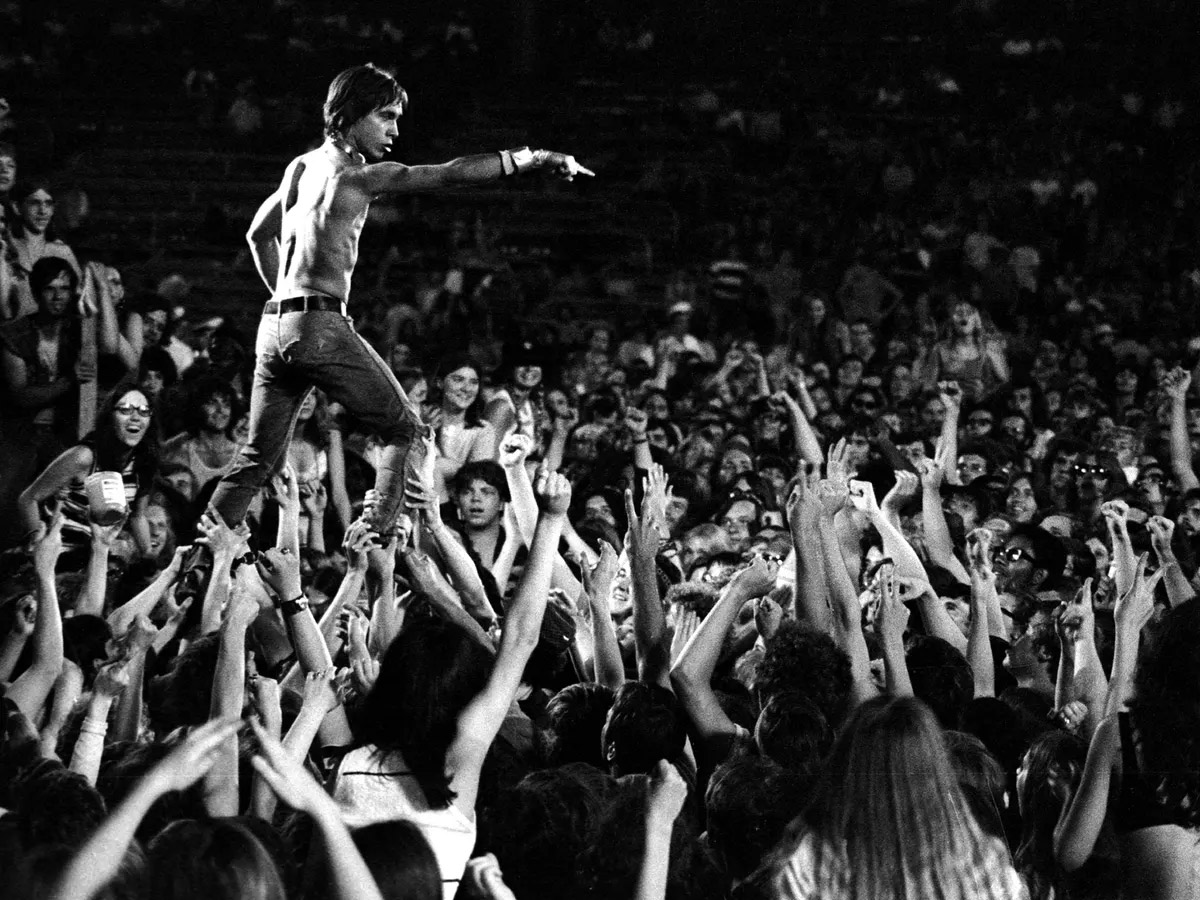 1970s
1973 MAY 30 – Alice Cooper (Billion Dollar Babies tour) – Met Center
1974 SEP 1 – New York Dolls – Minnesota State Fair (yes, really) Teen Center
1975 NOV 14 – Aerosmith (opening for The Sensational Alex Harvey Band and The Edgar Winter Group) – St. Paul Civic Center
1976 FEB 6 – KISS Top 10 (with Point Blank – KISS: Alive! tour, two shows, 8 PM and midnight) – St. Paul Civic Center Theater
1977 APR 13 – Led Zeppelin – St. Paul Civic Center
1978 JAN 21 – Ramones (with The Runaways) Top 10 – Minneapolis Auditorium
1978 MAR 30 – Van Halen (third on the bill opening for Montrose and Journey, I left my front row center seat after Van Halen's set) – St. Paul Civic Center Theater
1978 OCT 31 – Bob Dylan – St. Paul Civic Center
1979 SEP 12 – The Clash Top 10 (with David Johansen, Sam & Dave and The Undertones – a picture of me in the front row is in Pennie Smith's book, The Clash, Before and After) – St. Paul Civic Center
1979 NOV 20 – Iggy Pop

Top 10

(with Brian James, Ivan Kral and Glen Matlock in the band, Iggy attacked me with his t-shirt, I felt honored and somehow baptized) – Jay's Longhorn, Minneapolis
1980s
1980 APR 23 – Pretenders – Sam's (bouncers tossed me near the end of the set)
1980 JUL 29 – Johnny Thunders – 7th St. Entry, Minneapolis
1981 MAR 9 – Prince

Top 10

(Dirty Mind tour) – Sam's
1981 APR 27 – Steel Pulse – Duffy's (I took black and white photos)
1981 SEP 12 – Peter Tosh – (with Jimmy Cliff) Top 10 Northrop Auditorium, Minneapolis
1981 OCT 5 – Prince (surprise gig billed as "Controversy," Prince switched instruments all night, The Time played too) – Sam's
1982 APR 14 – Bad Brains

Top 10

– Duffy's
1983 MAY 22 – U2 – Northrop Auditorium, Minneapolis (War tour – I wasn't a fan of the band then – and even less so now – but this was easily one of the most incredible, moving, rock shows I've ever witnessed)
1986 JUL 13 – Bunny Wailer

Top 10

(with Leroy Sibbles and Ras Michael and The Sons and Daughters of Negus – first ever solo concert outside Jamaica) – Cal State Long Beach
1986 AUG 16 – Bunny Wailer (with Leroy Sibbles) – Madison Square Garden
1990s

1990 JAN 18 – The Roches – Roxy, Los Angeles
1990 AUG 14 – Ziggy Marley and The Melody Makers – Universal Amphitheater
1992 JUL 20 – The Roches – Roxy, Los Angeles
1992 NOV 7 – Michelle Shocked (with Taj Mahal and Clarence "Gatemouth" Brown) – The Palace, Hollywood
1993 AUG 1 – Aerosmith (backstage for Wayne's World 2 filming) – San Diego Sports Arena. Not a great gig, per se, but notable since I was backstage because I was working on the Wayne's World 2 filming.
2000s
I didn't attended any concerts in the 2000s. Weird. Almost 18 years without a live show. Go figure.
2010s
I only saw eight shows in the teens, but they were almost all good, and a couple were among the best I've ever seen.
2012 AUG 14 – Regina Spektor – Greek Theater
2012 SEP 14 – Fiona Apple

Top 10

– Greek Theater
2012 OCT 13 – Aimee Mann – Wilshire Ebell Theatre
2015 AUG 5 – First Aid Kit

Top 10

– The Cathedral Sanctuary at Immanuel Presbyterian Church, Los Angeles
2016 JUL 10 – Brian Wilson (playing the Pet Sounds album) – Hollywood Bowl
2016 OCT 6 – Cat Stevens (50th anniversary show) – Pantages Theater, Hollywood
2017 MAY 12 – PJ Harvey – Greek Theater
Yikes, that's 44 years watching bands play. It's a miracle I can still hear myself think.