Apple's Steve Wozniak had a dream. He wanted to stage a music festival to end all music festivals.
So in 1982 and 83, he put on the US Festival, three days of music from the likes of Fleetwood Mac, Mötley Crüe, The Police, Ozzy Osbourne, Judas Priest, Ramones, The B-52's, Van Halen, Talking Heads, INXS, Missing Persons, U2, The Pretenders, Willie Nelson, Waylon Jennings, Santana, Tom Petty & the Heartbreakers, and others. Hundreds of thousands of people attended each weekend in hot and dusty San Bernardino, California.
Unfortunately for Mr. Wozniak, he also invited The Clash to play.
Wozniak wanted David Bowie to play, but Bowie was on tour, and diverting his stage show to come to the festival cost Wozniak one and a half million dollars. So far, so good, right? That's just rock star stuff. But Van Halen had a "favored nation" clause in their contract that said no one could be paid more than them, so they had to be paid 1.5 million as well.
When The Clash learned about the vast sums of money lavished on two performers, they were upset. Well, they were upset about other things as well. The band was breaking up, US would be Mick Jones' final show with The Clash. But The Clash being The Clash, they refused to go on stage until Wozniak agreed to donate a large sum of money to charity. To offset the rock star's payday, I suppose.
When The Clash finally did take the stage, they had trouble connecting with the huge crowd, and all the other frustrations they were dealing with came to a head.
Halfway through The Clash's set, Joe Strummer stopped to talk to the audience. But apparently, he hadn't received the memo telling him who was paying for everything.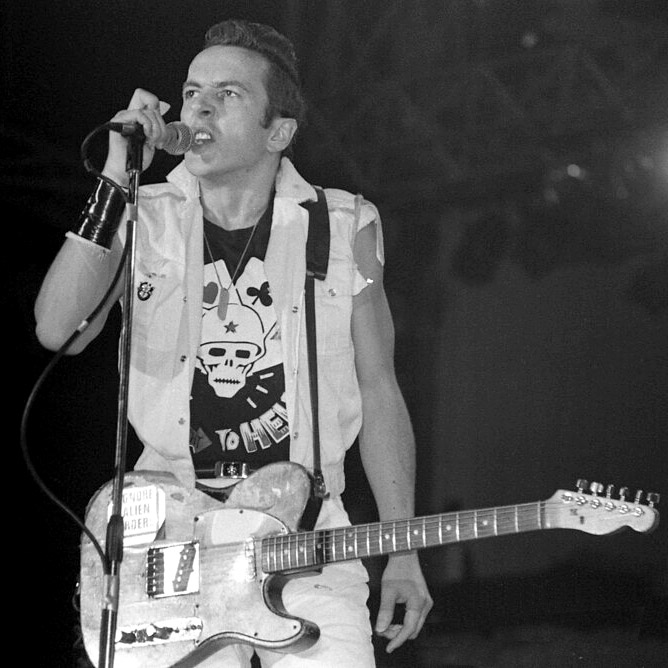 "Yeah, I know we're supposed to be…I know the human race is supposed to get down on its knees in front of all this new technology and kiss the microchip's circuits. It don't impress me all that much.

When there ain't nothing but "You make! You buy! You die!" That's the motto of America! You get born to buy it!

And I'll tell you, those people out in East L. A., they ain't gonna stay there forever. And if there's anything going to be in the future, it's gotta be from all parts of everything, not just one white way down the middle of the road!

So everybody out there grow up for fuck's sake!"
It was reported that Wozniak was less than happy with Joe's comments, but he was a bit more distracted by losing ten million dollars on the show.
Or maybe he wasn't.
When he was told how much money the festival lost, he said, "Well, then I can only do about 40 more of these."